In 1905 (Meiji 38), a thermal power station was built in Suminoe, and
in August of 1907 (Meiji 40), the Nankai Railway (currently the Nankai Electric Railway) began to use steam locomotives for its trains.
This is when the Sumiyoshi (Okutenjinchomae) Station, located in the current 3rd Avenue, was demolished, and
Kohama Station, Sumiyoshikoen Station, and Suminoe Station were newly built.
Seven rice dealers of Kohama opened a store where Sumiyoshi Railway Station used to be.
This is the birth of Kohama Shopping Street. It started off as a fruit and vegetables market.
In about April of 1919 (Taisho 8), the Kohama Business Association was established by a total of 73 shops along the current 2nd, 3rd, and 4th Avenue.
In 1933 (Showa 8), the current 1st Avenue (the former Kohama Community Association) was established,
and merged with the Kohama Business Association in 1938 (Showa 13).
In 1943 (Showa 18), it merged with the 5th Avenue, and
continued to grow until the present, where it now has the most members of shop owners in Sumiyoshi-ku and the second most in Osaka.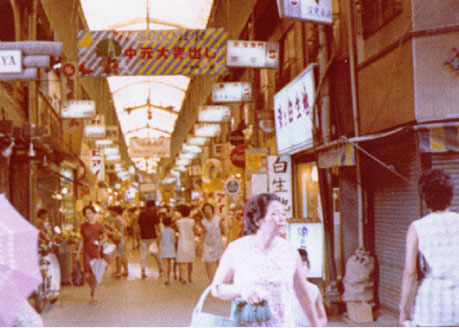 The 2nd Avenue in 1969 (Showa 44). Contributed by Mr. Taninaka.